It's all about you!
As a candidate of Inspired, it's all about you! Meet with us to discuss your career goals, whether it's breaking into publishing or advancing in your field. No matter your level, sector, or expertise, we're here to help.
In a nutshell, being registered with Inspired is like the valuable relationship between Literary Agents and authors. However, our role is to represent and introduce you to our clients for suitable positions, showcasing the incredible talent behind the creation of books, journals, publications, and other captivating content that enriches, inspires, entertains, and educates readers.
Sound good so far? Here's how it works!
1. Create an Account and Apply Now
Sign up for Job Alerts that match your criteria. Apply by clicking "APPLY NOW" and attaching your CV. If you've met with us before, then do let us know in the covering note.
2. Embark on Your Inspired Journey
Meet with one of our expert publishing recruitment consultants to explore your career history and goals, and receive a comprehensive briefing on roles that match your aspirations.
3. Being Introduced by Inspired
Once you've written a tailored covering letter (Publishers still love to see a covering letter!) that we can attach to your application, we will introduce your profile directly to the hiring manager. 
4. Client Interviews
We will keep you fully informed about shortlisting decisions. If not shortlisted, we'll discuss alternative options and work together to improve your application. If selected for an interview, we will arrange it and provide 1-2-1 interview preparation. 
5. Negotiate Your Package
All our consultants are trained and skilled negotiators, and will ensure you are kept in the loop when it comes to any offers on the table. We will manage this process fully for you and make sure you're happy with the offer before accepting.
6. We Stay Connected
We'll keep in touch, ensuring the role is a perfect fit. Our goal is to see you succeed and maintain a lasting relationship with you. With all our candidates, we always aspire that one day they will become clients! 
Our
Services
Discover the perfect talent for your publishing and content teams! Click through to explore our range of unrivaled recruitment services tailored to your needs. Let us connect you with exceptional professionals who will bring your creative vision to life.
Job
Alerts
Don't miss out on your dream content or publishing role! Sign up for our job alerts today and be the first to know about exciting opportunities that match your skills and passion. Take the next step in your career journey now!
Create an
Account
Elevate your content or publishing career with a personalised account. Sign up for career advice alerts, upload your CV, and open the door to exciting new roles. Enjoy exclusive features like quick apply, a personalised job wish list, and a comprehensive application history. Join us today!
Jennie is a highly skilled publishing recruiter with brilliant communication, negotiation and people skills. Throughout the recruitment process she was always on hand to offer a wise word of advice, encouragement or provide support, and proved invaluable when it came to agreeing the final job offer. I hope we'll work together again in the not-too-distant future.
Penguin Random House
Commissioning Editor
Inspired Selection stand way ahead of other recruitment firms in terms of professionalism, diligence and commitment to both clients and candidates. They have a personal touch and work to align skills, experience and ethos. A great experience  as a candidate. Can wholeheartedly recommend them.
SelectScience
Executive Editor
Rhiannon matched me to two wonderful jobs and was extremely supportive throughout the whole process, putting no pressure on me in the decision making process. This has actually been the most delightful round of job hunting I have ever done! Thank you Rhiannon and Inspired Selection.
McGraw Hill Education
Product Marketing Manager
Inspired Selection stands out as a recruitment consultancy which takes a considered and intelligent approach to the job search process. I felt looked-after and valued as a candidate, roles were relevant to what I was looking for, I was given a lot of information before an interview so that I felt prepared and I wasn't pressured to continue with an application if I did not feel it was right for me.
The International Bar Association
Managing Editor
We are a specialist team of experienced publishing headhunters, recruiters and researchers. We work in verticles across the different publishing sectors and are either Client or Candidate focused.
MEET THE TEAM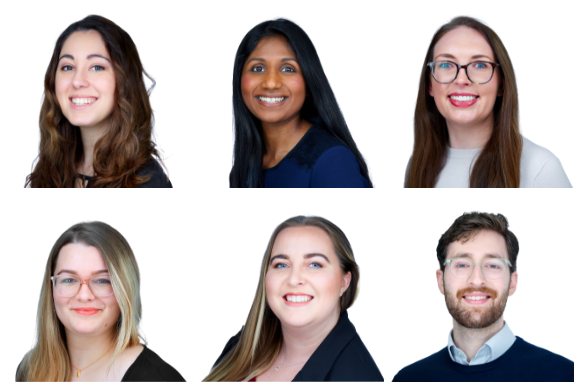 Inspired Search & Selection Ltd
20 St. Thomas Street
London
SE1 9RS